i got my spoiler and spoilee for
secret pal six
! i just emailed the person i'm spoiling and i got a very sweet email from the person who's spoiling me! i'm really, really excited and can't wait to get started!
i'm just making a quick progress update while todd is at work. i've barely seen him for half an hour altogether today and it feels sort of odd. i was half awake when he left at 8:30 this morning to work in the lab, and he was home for a little while before he left for work at the sub -- until 1:00am! poor guy, we have to be at school tomorrow for 8:30.
here goes...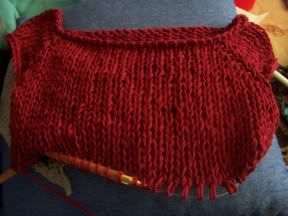 my
ballet tee shirt
from teva durham's book
loop-d-loop
-- it's about halfway finished here.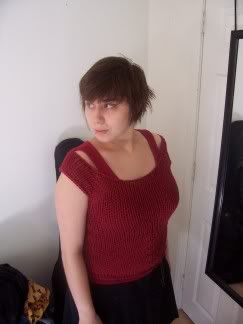 and here's the finished product. i've gained some weight, most noticeably in my arms, and i'm not pleased. no more lazy ice cream nights! i love how the tee looks, though!
next up: actually finishing
wendy's toe-up sock pattern
, getting started on teva durham's
lace leaf pullover
, and making another
ballet tee shirt
for my mom's birthday.
good night!