FINISHED!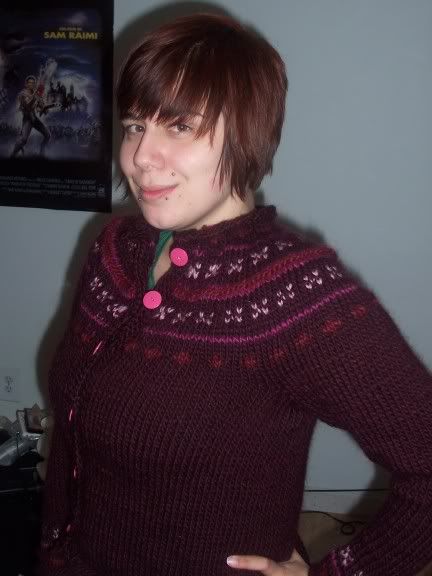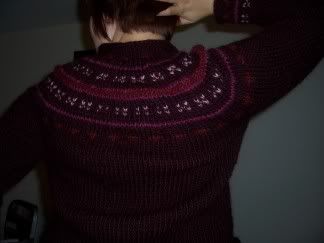 i finished up the
fairly easy fair isle
cardigan from
stitch 'n bitch nation
last thursday. it was an impressively quick knit; even with work, school, and two other projects going at the same time, i was able to finish it within a week. hurrah!
i used
brown sheep lamb's pride builky
as suggested in the book, but i did change the colors since i wasn't sure of the onyx as my MC. i preferred the browned-out purple of the aubergine, so i used that instead and based my CC choices on that. it makes me feel wonderfully buxom! i'm going to crochet around the buttonholes to give them a little more stability, but i'm so very pleased!
i got a terrific package from my secret pal -- by some odd coincidence, they sent me a wonderful knitted hat that perfectly matched the cardigan! i'm not one to wear hats, but this one has barely left my head since i opened the package. i also got some lovely sock yarn and the most adorable set of magnets -- a complete godsend, since the only way todd's attention can be grabbed in the mornings is by putting what you need on/in the fridge. i'll be posting pictures later, once i get home from work.