as ambitious as i wanted to be this christmas, i don't think i'm going to be able to meet my goal of having a sweater made for mom, dad, my sister, my brother, and my boyfriend. i have class for 13 hours a week, work for 20 hours a week, and i babysit quite a bit as well. i have mom's sweater almost finished, with just finishing the sleeves and grafting the pieces together left. since we have a three-day weekend starting tomorrow, i'm hoping i can get that done.
i've decided to make socks and hats for everyone instead. i can still be just as creative with smaller projects, they're easier to carry with me to class/work, i can dye the yarn my SP sent me from
knitpicks
for some of the hats...i think i've convinced myself.
i'm currently obsessed with this book:
my mom got it at
WEBS
a while back, and i borrowed it the last time i was at home. it's a treasure. i'm ordering my own copy off amazon when i get home from work -- this is an example of a time when i'm glad i'm getting more hours at work. i can splurge on knitting goodies!
i'm not sure how i feel about
the anticraft
; some of the patterns are cute (
like this one
, although i'd probably forego the duplicate stitch and make it as an intarsia project), but altogether it feels like a crafty version of hot topic. it's a novel idea, but nothing out of the common way.
after i finish mom's sweater and my current pair of socks, i'll be working on these mittens: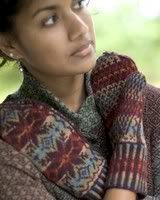 from the winter 2004 issue of interweave knits. i'm making two pairs: one for myself, and one for a lucky young lady who'll definitely need them in the months to come (i know she reads this, so i have to be sneaky!). i'm not completely enamored of the color scheme as it appears in the picture, but i think the pattern would look incredibly crisp in black and white.
i can't believe i have a month and a half to get all this done! my hands will probably fall off, so tee is going to have to help me open my gifts.
later!